Website design & development agency
Generate leads Create competitive advantage Enhance customer engagement Increase credibility and trust Enhance your online presence Expand market reach Enhance customer experience Improve customer service
With a custom-designed website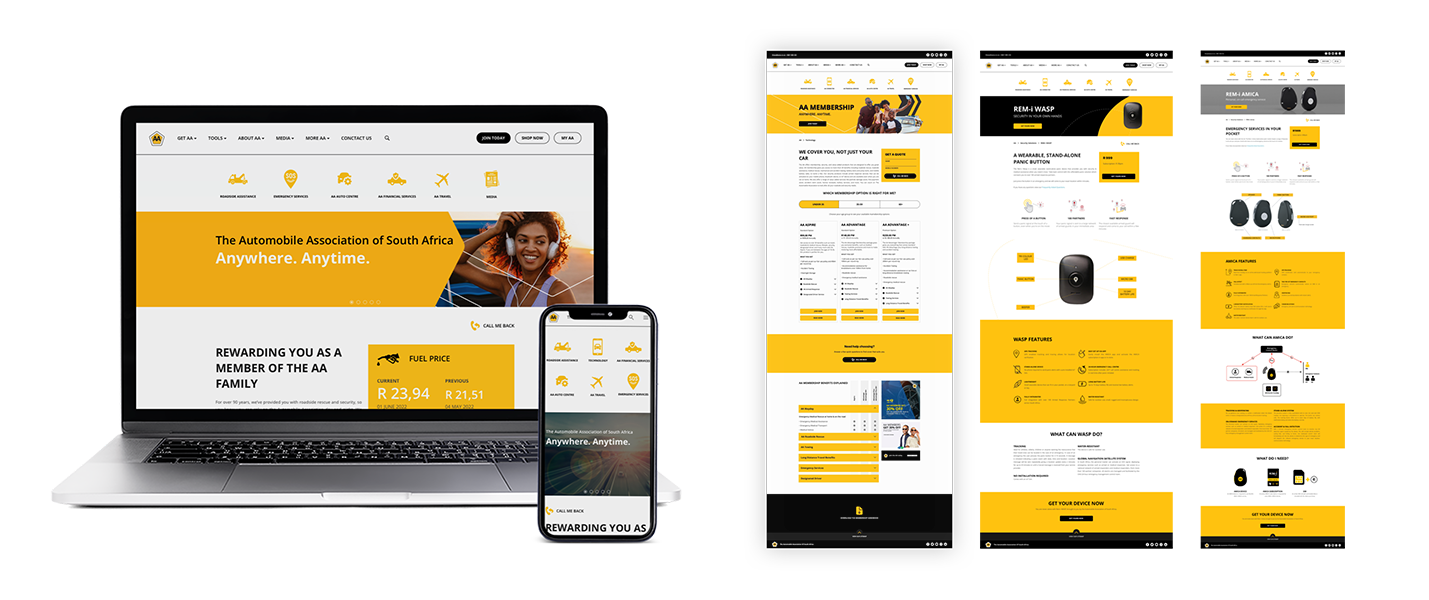 Top performing websites that also look great
We are the website design and development agency you have been looking for. We are based in Sandton, but we build websites for businesses all over South Africa and around the world.
We specialise in creating high-performing websites through search engine optimisation (SEO) and conversion optimisation. We create beautiful websites that are designed on-brand with great user experience (UX).
Let us create the best website for your business that meet all your requirements and ensure maximum return on investment.
HIGH-QUALITY PERSONALISED WEBSITE THAT PERFORMS WELL
Service includes:
SEO included
Webmaster tools setup
On-page SEO
Technical SEO
Also see our SEO services for complete solutions.
UX and visual design
Sitemap
Wireframe designs
UI design
Visual page mockup designs for all necessary pages
Detailed personas
Detailed user journeys
Use cases and user scenarios
Custom graphic design
Project management
Streamlined process
Project managed on PM software
Social media integration
Links to social
Social share available (if required)
Social wall available (if required)
Customer interaction
Contact forms
Thank you pages
Customer and admin notifications
3rd-party or back-end integration possible***
Chat features available
CRM integration (if available)
Ecommerce features / online payments
Online payments available
Products, cart, and checkout available****
See our Ecommerce services below
Website changes
Support hours can be utilised for website changes
Unlimited on retainer service
Maintenance and support
We offer maintenance and support services *****
On retainer:
Unlimited priority maintenance & support
White-glove service
* * *
* Costs are calculated with a base price, as indicated as the "From" costs. Additional pages are calculated at the rate associated with the website solution opted for. Solutions vary in skill-level and effort required, and is reflected in the associated hourly rate. The same applies for implementing special features.
** Turnaround time is dependent on the size of your website, the functionality required, and client response time.
*** We are able to integrate with any back-end or 3rd-party system as long as the necessary APIs and permissions are available. Integration typically involves more time and effort and a requirements assessment and costing is required.
**** It is not uncommon to sell a few products or services and take online payments on a website that is not primarily and online store. Shopping capabilities requires a store setup and will affect many areas of your website. It is best to identify this requirement early on and plan for it. If you primary focus is an online store, we recommend you speak to us about our ecommerce solutions.
***** Website changes, maintenance and support services available at an hourly rate, or as an add-on service. Please see our maintenance and support services for more details. Retainer solutions include comprehensive maintenance and support services.
Why should you invest in a professionally designed website?
Key benefits of a good website:
Establishes an Online Presence Builds Credibility and Trust: A professionally Expands Your Reach Generates Leads and Drives Conversions Enhances Customer Engagement Showcases Products and Services Supports Customer Service Facilitates Online Sales Enables Data Collection and Analysis
A good website can have a significant impact on your business in several ways. Here are some key benefits a good website can provide:
Establishes an Online Presence
In today's digital age, a website is crucial for establishing an online presence. It serves as a virtual storefront where potential customers can learn about your business, products, and services at any time, increasing your visibility and accessibility.
Builds Credibility and Trust
A professionally designed website helps build credibility and trust with your target audience. It showcases your brand, expertise, and professionalism, conveying a positive impression that can influence potential customers' perception of your business.
Expands Your Reach
A good website enables you to reach a wider audience beyond your local area. It allows you to target customers globally or in specific geographic regions, helping you expand your market reach and tap into new opportunities
Generates Leads and Drives Conversions
Your website can act as a powerful lead generation tool. By incorporating effective call-to-action buttons, lead capture forms, and compelling content, you can attract and convert website visitors into qualified leads or customers.
Enhances Customer Engagement
A well-designed website with user-friendly navigation and engaging content helps captivate and engage visitors. By providing valuable information, interactive features, and opportunities for interaction (e.g., live chat or contact forms), you can foster deeper connections with your audience and encourage them to take desired actions.
Showcases Products and Services
Your website serves as a platform to showcase your products or services in detail. It allows you to highlight key features, demonstrate value, provide pricing information, and showcase visual content such as images or videos, helping potential customers make informed decisions.
Supports Customer Service
A good website can improve customer service by offering self-help resources, FAQs, support documentation, or even chatbots for immediate assistance. This enables customers to find answers to their queries, enhancing their overall experience and satisfaction.
Facilitates Online Sales
If you offer e-commerce capabilities, your website becomes a digital storefront where customers can browse and purchase products or services conveniently. This expands your revenue streams and opens up new avenues for sales growth.
Enables Data Collection and Analysis
Websites provide valuable data insights through analytics tools. By analysing website traffic, user behaviour, and conversion metrics, you can gain insights into customer preferences, identify areas for improvement, and refine your marketing strategies for better results.
Get a free no-obligation website quotation
Kindly provide us with a few necessary details to prepare a quotation. 
BESPOKE DIGITAL SOLUTIONS
we specialise in
software development mobile apps systems integration product design user experience (UX) design search engine optimisation (SEO) search engine marketing lead generation social media marketing pay-per-click advertising (PPC)
Invest in digital products that deliver results
We create customer-first digital experiences designed to meet business requirements and customer expectations.
Our high-quality digital products and solutions add value and help businesses grow by creating a competitive advantage, attracting and converting new customers to increase revenue, increasing efficiency and productivity, and improving customer experience.
DM
DIGITAL MARKETING SERVICES